House prices in Scotland over the past 50 years
70s
In 1971, the year ESPC was formed, the average property selling price in Scotland, according to data from the UK House Price Index, was just £3,617. However, mortgages started to become more available, meaning house prices rose steeply over the following decades.
80s and 90s
According to this data, in 1980 the average selling price in Scotland had shot up to £15,145 and in 1990 it was up at £35,684.
The new millennium
Prices continued to grow as we entered the new millennium – in 2000 the average Scottish property selling price was £51,587. The first decade of the noughties is known for the impact of the financial crash of 2008, meaning the peak average selling price of £137,043 was seen in 2007.
Post-financial crash
Scotland managed to avoid the severe correction seen in the rest of the UK as a result of the financial crash, and Edinburgh proved particularly resilient. However, there was a decline in the next few years, with the average selling price in in Scotland in 2010 sitting at £131,901.
2016 was the first year that the average property selling price exceeded that of 2007 in Scotland – it was £138,749 that year.
It continued to grow from that point. The average selling price in 2019, according to the UK House Price Index, was £151,787 which is a significant jump compared to 1971.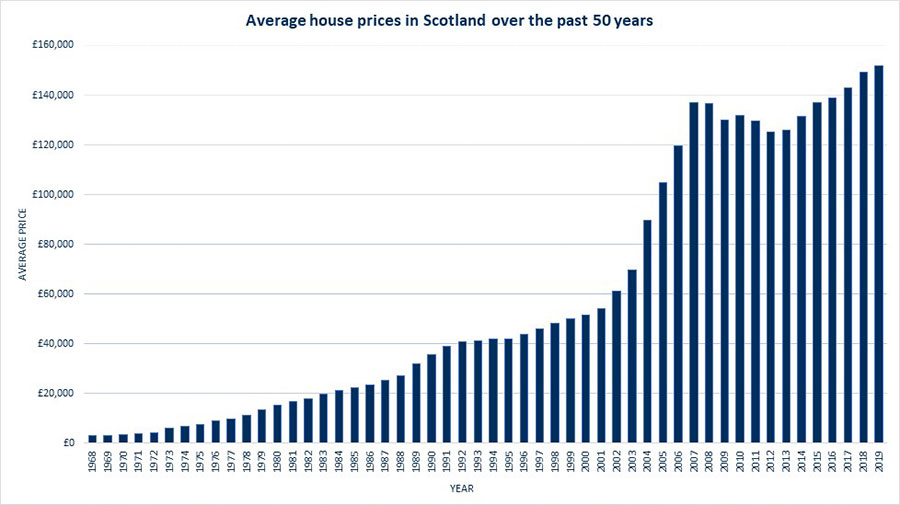 Of course, there are also regional differences within Scotland – Edinburgh, for example, has a higher average selling price than other areas. According to ESPC data, the average selling price in the capital in 2019 was £269,249. In 2020, it was £279,162.
It's important to bear in mind the impact of inflation, but there are other factors that may have contributed to changing house prices over the years, including access to mortgages.
Access to mortgages in the UK
The growth of the mortgage market from the 1970s onwards certainly played its part in rising house prices as more people had the means to become a homeowner.
This reached its peak in the years before the financial crash. Lower deposit mortgages with fewer borrowing restrictions were more commonplace meaning property purchases were easier than ever, driving selling prices up.
Of course, less regulation with some of these products contributed to the financial crash of 2008. Following this, lenders applied tighter affordability to criteria to mortgage products, meaning they weren't necessarily as accessible as they had been previously.
However, the return of 5% deposit mortgages in the middle of the last decade made capital for property more accessible once again resulting in a growth in house prices.
In the last year, due to the COVID-19 pandemic, lenders have raised minimum deposit levels, with lenders requiring at least 10% or in many cases 15%.
However, average property selling prices continue to grow – according to ESPC data, over the past three months, they've risen by 7.4% in Edinburgh, the Lothians, Fife and the Borders.